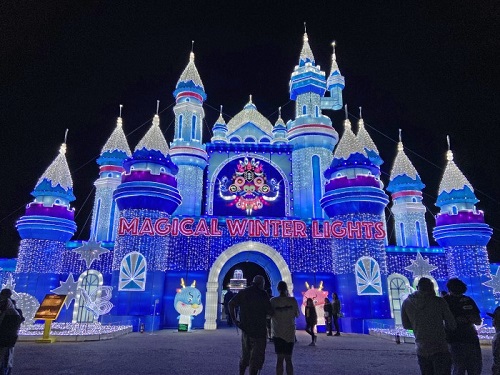 Twinkling lights, magnificent trees wrapped in colorful ribbons, and the tantalizing aromas of hot cocoa and freshly baked sugar cookies. As the classic song goes, it's beginning to look a lot like Christmas. Here in Houston, there is a full stocking's worth of family-friendly things to see and do that will make your holiday season one to remember. Located in the Upper Kirby area just west of Downtown Houston, The Belmont is an easy sleigh ride from many of Space City's finest festivities. Get the most out of your holiday season by checking out these Christmas events near you.
Experience Houston Zoo Lights
From a 125-foot tunnel illuminated by thousands of lights to awe-inspiring displays of animal-themed lanterns, there's nothing like Houston Zoo Lights. Through January 9, 2022, the Houston Zoo is transformed into a wonderland of yuletide cheer just as ideal for family evenings out as it is for a romantic date night. Beyond strolling through the spectacular Infinity Tunnel of Light, you'll find yourself immersed in the Holiday Grove's hundreds of glowing flowers and the underwater world of the Illuminated Ocean complete with jellyfish and other sea creatures swimming overhead. Eventually, you'll come across Santa Claus at his workshop and a 33-foot-tall Christmas tree adorned with color-changing lights. With the entire zoo decked out with holiday decor, you'll want to take your time to admire it all.
Discover Galaxy Lights
As one of Houston's top attractions, Space Center Houston is always worth visiting. That's especially true during Galaxy Lights, one of the most interactive and technologically advanced light displays in the Lone Star State that you can catch from now through January 2. Start at the Main Plaza, where dozens of suspended lights "dance" to music in a show of dazzling shapes and patterns. It's here you'll also watch "Holidays in Space," a short film starring current and former astronauts recounting their experiences of celebrating the season in space. Head to The Food Lab to catch an indoor meteor shower before warming up with a hot drink and observing all the magnificent 3D displays. Continue to Independence Plaza, where a 200-foot light tunnel and models of all the planets are just part of what you'll see here. Grab your coat, gather your family, and head out to Space Center Houston to spend an evening amongst the stars.
Climb Aboard The Christmas Train
It's not every day you get to ride an old-fashioned train. At Victory Camp in nearby Alvin, it's all part of the fun. This family-friendly adventure takes you on a journey past hundreds of thousands of lights and eye-catching displays. While The Christmas Train is the main attraction, it's by no means all there is to do here. Snap a photo with Santa, watch The Great Elf Show, browse all the goodies in the gift shop, and put pedal to the metal at Santa's Speedway Go-Kart Track. Whether you're fulfilling your need for speed or savoring holiday joy with your family, you'll find something to enjoy at Victory Camp.
Glide on the Discovery Green Ice Rink
Set among the high-rise buildings of Downtown Houston, Discovery Green's ice rink is one of the coolest places to skate in town. Admissions tickets give you 75 minutes on the ice, so you can savor the experience at your own pace. Once you're done, walk around Discovery Green to take in all the Christmas decorations and public works of art. Can't wait to hit the ice? You'll need to purchase tickets in advance, which you can buy here.
Journey Through Magical Winter Lights
With its towering columns and impressive gate, the immaculately lit castle at Magical Winter Lights is just one of the many astonishing things you'll see here. Consisting of more than 100 distinct lantern sets within eight distinct themed sections spread across 20 acres, this is not your average light show. Start in The Kingdom, where the castle looms over a fountain of light and whimsical figures of birds and plants. Your tour continues through places like The Village, a section inspired by European town squares framed around a fully lit Christmas tree. In the Houston section, you'll come across fixtures dedicated to the fourth-largest city in the country, including a recreation of the downtown skyline. Along with admiring all the exhibits, head on over to the carnival to savor all the tasty fare food and to ride the 87-foot-tall gondola Ferris wheel and the other attractions for all ages. Ready to experience all this winter wonder? Magical Winter Lights is located at the Houston Raceway Park in Baytown, just 40 miles east of The Belmont.
Enjoy Holiday in the Gardens
Explore pathways bathed in blue, yellow, red, and white lights, soar down an Arctic Slide, catch a classic Christmas flick in 3D and 4D, and see an exhilarating show. Located just an hour away from The Belmont, Moody Gardens is a holiday destination all its own. Known as Holiday in the Gardens, this event stars eight attractions all in one venue. During the day, explore the pyramids that take you through the world's rainforests and oceans, ride on an old-fashioned paddlewheel boat, and watch films on Texas' largest screen. Once the sun sets, tour the gardens for Festival of Lights, a showcase of more than two million lights and displays synchronized to some of your favorite holiday tunes. There's also the exhilarating Cirque Joyeux Holiday Show, a captivating performance starring acrobats, aerialists, and even cats. Held from late November through January 2, Holiday in the Gardens is well worth the day trip.
Watch a Holiday Show
Nothing beats going to the theater, especially if you're going to see a Christmas classic performed on stage. Drive a few minutes from The Belmont and you'll have your pick from some of the best holiday shows in Texas, starting with the Houston Ballet's The Nutcracker, which you can see at the Wortham Theater Center through Christmas Eve. Meanwhile, the Alley Theatre's production of Charles Dickens' A Christmas Carol (through December 29) reinterprets this holiday story so that it shines on the Hubbard Theatre's intimate stage. Finally, savor a breathtaking performance of tunes like The Christmas Song, O Holy Night, and We Wish You a Merry Christmas at the Houston Symphony's Verry Merry POPS concert on December 18 and 19.
Of course, you don't have to go anywhere to celebrate the holiday season. Live at The Belmont and you can start your day relaxing with a warm cup of coffee or hot cocoa in your spacious and beautifully appointed one- or two-bedroom apartment equipped with a full-size washer and dryer. Later, soak up some of the late fall sunshine by our resort-style pool and spa or entertain friends and family by our outdoor kitchen and grill. When you are ready to head out, you'll be just minutes away from many of Houston's best holiday things to see and do.
Looking for your next home? Check out our amenities and floor plans, or contact us to learn about current lease specials and to schedule a tour.
Photo Credit: Magical Winter Lights