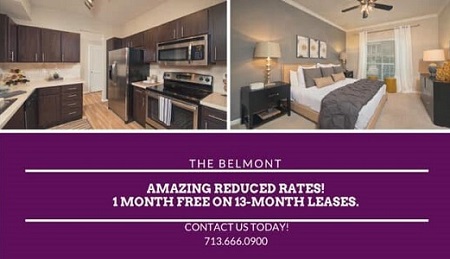 If you are searching to find upscale apartments near the Medical Center in Houston, The Belmont is the perfect choice. Located only three miles from the Texas Medical Center at West University Place near Rice Village, The Belmont Apartments provide convenient, comfortable living in a premium Inner Loop area. It is where you want to be.
Convenient, Comfortable Living for Medical Professionals & Students
Anyone living in Houston knows traffic can be a beast, and many professionals and students spend over 10 hours a week in daily commutes to and from the medical district. For some, particularly those who live in Houston area suburbs, those hours are doubled. After working a long shift, you don't want to spend your free time in traffic driving home. Living at The Belmont, you can cut that commute to minutes.
When you arrive home, you can take a refreshing dip in the resort-style pool and spa or release the stress of the day in your deep-soaking tub before relaxing comfortably in your well-appointed apartment. It will feel good to be home.
Living at The Belmont, you can get rid of that gym membership and work out right within your apartment community. If you want to play pool or shuffleboard, there is a game lounge, too. Explore the apartment and shared amenities at The Belmont.
Rice Village Shopping, Dining & Entertainment Nearby
If you already live in Houston and are familiar with the area surrounding the medical district, you know there are many different shopping, dining, and entertainment options nearby. As a resident of The Belmont, you can enjoy it all close to home.
Living near Rice Village, Houston's walkable upscale shopping district, you are surrounded by some of the city's most vibrant shopping, dining and night-life venues. Residents of The Belmont rave about the convenience of living next to an HEB grocery, and Kroger at Plaza in the Park is only steps away.
Find Your New Home at The Belmont Apartments
Whether you are a medical student searching for an affordable one bedroom or a professional with a family needing a spacious two-bedroom apartment, you can find the best home for you at The Belmont. View our unique one and two bedroom apartment floor plans. You can see the apartment layout, square footage, monthly costs, and availability. You can even apply online. We make it easy.
If you are searching for an apartment with a short-term lease, The Belmont Apartments offer it. We also currently offer one month of free rent if you sign a 13-month lease. Take advantage of the amazing reduced rates now!
Contact us to schedule an in-person or virtual tour.